The first Xoloitzcuintle dogs (Xolos) were imported into Australia relatively recently in 2009, the breed in Australia therefore is still in its early development, ANKC breed recognition was gained in Feb 2010 and the breed fully shown at conformation shows from July 2010. The Xoloitzcuintle was considered one of the rarest breeds in the world and the arrival of the first breeding pair is definitely a positive for the rare dog breeds of Australia.  It is estimated now that numbers are around the 10,000 mark worldwide with registrations and rising.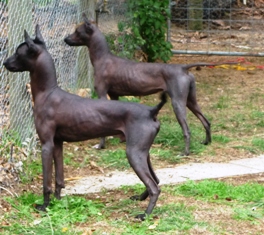 When the first Xolos arrived in Western Australia in July 2009, Besitos Taha Daha and Besitos Naca it was the hard work of many years research and help from people around the world. The breed is not common even in the mother country Mexico, where the Xolo is considered a National Treasure.
I am indebted to Besito Xolos (Patty Hoover) USA, who kindly sent two impeccably bred Xolos to begin the Xoloitzcuintle breed in Australia. In July 2009 Besitos Taha Daha and Besitos Naca arrived courtesy of Jet Pets travel (thanks to the amazing Melanie working very hard to make sure all went to plan) at Perth International airport and then spend 30 days at the Byford Quarantine Station. The staff led by a wonderful lady called Julia were all that one could ask for when their beloved pets are away from home and need special care and attention.
Not long after in December 2011 Pitaya (Alvarez) arrived from a partnership breeding between Patty HOOVER and Victor ALVAREZ (MEX), Pitaya is unique in Australia as a dog that has no prefix and again without the great help of the ANKC (Wayne Burton and Graham Doyle) of the New Breeds Committee, the rules would never have been changed to allow Australia to show and use dogs with no prefix. Many countries do not have prefix and use breeder names, in some countries it can be very expensive to obtain a kennel name and require many champions, so not all breeders have a registered prefix or use one (the dogs are still pedigreed and registered
Our latest addition and the youngest ever Xoloitzcuintle to arrive in Australia is from Norway, Local Hero's Filipa (FRIBERG) is a delight to own and a real asset to the future of the Xolo program here at Wazzat. I cannot thank Mona Friberg, Victor Alvarez and patty Hoover for all the help and support and allowing me to have such wonderful examples of the breed to show Australia. I have also been fortunate enough to obtain some semen from some exciting dogs, for use in the future. I look forward to our journey and what it may produce and the new friends we can make and meet.
Without the assistance of the Federacion Canofila Mexicana and the dedicated Xolo people around the world, this venture would not have been possible. Breeders across the globe have devoted a lot of time and effort to the protection and wellbeing of the Xoloitzcuintle, planning their future carefully.
The Xoloitzcuintle arriving in Australia is a part of history.
These FOUR Xoloitzcuintle are the breed foundation in Australia.
2015 we are at NINE standard Xoloitzcuintle here in Australia with our partner kennel Mona FRIBERG in Norway managing the show team at Local Heroes, it has been an exciting and at times hard journey, but we are thrilled with the success the team has had in the short time, and are very happy with the path we have created for others to follow.  Thank you to all the Xolo team, both here and in Norway, The Judges who have recognised the breed quality and awarded all our dogs. We continue on our mission of Education and sharing the Xoloitzcuintle breed with as many like minded people as we can.
Please join our Facebook page to get all the latest information on the breed here in Australia, Wazzat Xoloitzcuintle Australia
Facebook Group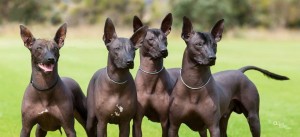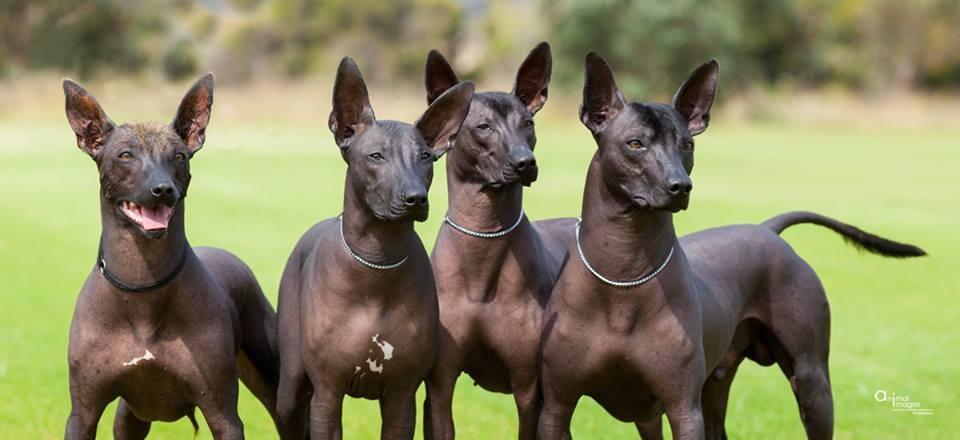 To recognize a New Breed in Australia
In order to show the Xoloitzcuintle in Australia the breed had to be recognised by the Australian National Kennel Council (ANKC) and meet specific requirements. First and foremost  is that the breed is recognised by an ANKC approved Overseas Controlling Body.  Every importer must provide the ANKC with an Export Certified Pedigree showing three generations of ancestors, all fully registered with prefix (Kennel name) and suffix.
The FCI (Federation Cynologique Internationale) is an international purebred dog registry umbrella organisation that covers 83 member country organisations and basically defines standards for breeds of dogs as a conformation document that is a document on how a breed should look, perform and helps to keep standards to all breeds whilst being utilised worldwide.  In Australia a breed standard extension (BSE) is collated and used to train ANKC judges to the points and conformation of the breed. The BSE is then submitted to the New Breeds Committee, when approved it is distributed to all member bodies Australia wide for perusal and discussion before the ANKC make a final ruling.
Without the support and advice from the following people I would not have been able to fulfill my dream of owning these wonderful treasures, and introducing them to Australia.
My absolutely wonderful and fantastic husband Colin who encouraged me to follow my dream, even when times were tough and I was impossible to live with through tears of frustration and tears of joy.
| | |
| --- | --- |
| Belachi Bare Witchery (Angel) |   |
| Patty Hoover (USA) | |
| Barbara Griffin (USA) | |
| Phillipa Cracknell (NSW) |   |
| Donna Cawley (UK) | |
| Amy Fernandez (USA) | |
| Janice Carson (USA) | |
| Giovanna Suedan (Mexico) | |
| Victor Alvarez (Mexico) | |
| Mona Friberg (Norway) | |
| Joanne Tilbrook (QLD) | |
| Sian Gordon (UK) | |
| Sheryl and Wally Cook (WA) | |
| Gaye North (WA) |   |
| Skye Mawson (NSW) |   |
| Rachel Higgs (WA) |   |
| Makaela Edmonson, Nacas handler |   |
| ANKC New Breeds Committee | |
| The Byford Quarantine Station Staff | |
| Eastern Creek Quarantine Staff | |
The many handlers who have handled the Xoloitzcuintle at shows, the fabulous people who offer me encouragement and support when I need it the most, both here in Australia and worldwide.